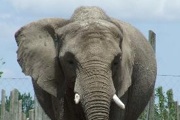 What to Expect at a Zoo
Zoos have been around in various form and fashion since ancient times. Once a luxury enjoyed only by wealthy royalty with the means to keep animals on their grounds, zoos now are commonly found throughout the world for the purposes of education, entertainment and conservation. Zoos have grown to serve as large entertainment venues with more than simple animal environments, though in most cases the animals are still headlining the zoo's attractions. As technology advances and research continues to be done for animals and their surroundings, zoos can increase the number of animals they keep in ways that break ground from previously kept exhibitions.
Zoos now place a strong emphasis on positive aspects of wildlife education and responsibility, driving funding for many organizations and associations supporting the health of both the environment and any animal threatened with depletion of living space and numbers. Animals threatened with extinction are more commonly found in zoos than at any other time in history. The threatened animals are kept not for display as a spectacle, but for the purpose of research and conservation to determine why numbers dwindled in the first place and what could be done to drive populations back to healthy amounts.
Visitors to zoos are often afforded a number of additional attractions that have grown out of the zoo's foundation. Many zoos resemble amusement parks in terms of rides and carnival-like kiosks placed through the park. There are a number of zoos that have adjoining water or amusement parks that can be accessed as a separate ticket or with paid zoo admission. The integration of zoos and larger fun parks benefits the bottom-line of a zoo, in turn benefitting the research and conservation zoos emphasize in their mission statements.
Working at a Zoo
Zoos often have staff educated in the training and care of the world's wild animals. Staff familiar with a particular species or family of animals may run shows or demonstrations with an animal for the public's viewing experience. General admission to a zoo will usually encompass any regularly scheduled show taking place on the zoo grounds. Displays of intelligence and natural dexterity are popular among visitors of a zoo who would not be able to witness such animals in their natural environments. Furthermore, some of the most successful zoos in the world are within close proximity to large metropolitan areas, within which residents would not be exposed to expanses of wilderness.
Find Coupons and Promotional Discounts for the Zoo
Zoos are unique in the sense that they use business and entertainment to draw income for research and conservation. A portion of the price of admission to a major zoo will always go to specific programs for the advancement of zoo initiatives and preservation of the natural world. Zoos also rely heavily on donations, and encourage membership in a number of outlying associations through which zoo tickets may be complimentary or discounted. Zoo coupons are easily printable from the website of the zoo itself.
Targeting the area in which a zoo is located when searching online may yield ticket offers or coupons from local grocers, radio stations, entertainment websites and public events websites. Membership in a zoo is the best option for any visitor intending to frequent the zoo throughout a year. Most zoo memberships are purchasable on-line, and range from basic services to V.I.P. amenities.