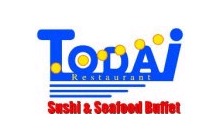 Todai Company History
Todai restaurants are known for their amazing seafood buffets around California and internationally as well. Todai coupons can be found in local coupon books and online, making it even more affordable to taste sushi, hot Asian entrees, salads and even dessert in an all-you-can eat format.
Todai first got its start in Santa Monica, California in 1985. It grew to over ten restaurants in a little over a decade. In 1997, several investors got involved with the chain and decided to expand the International seafood and sushi buffet into some new areas including Beijing, China and South Korea. This is a franchise opportunity, so it is possible to see one of these restaurants popping up anywhere in the world, with new locations being opened up every single year.
The restaurant is best known for its family oriented fare, offering a wide selection of food for all kinds of taste buds. There are cold dishes, sushi, hot seafood dishes including salmon, scallops, cod, tuna and many more.
For those who don't want any seafood, there is plenty of other hot dishes including chicken wings, chicken and beef teriyaki, miso soup and beyond. Plus, there are various fresh salads made in house every day. The dessert bar is also very extensive in their International offerings, including tiramisu, cheesecake, crème brulee, and more.
International Cuisine
All of the food is considered Asian fusion; however there are some other foods, too. It prides on being International. Some "made to order" stations can be found throughout the restaurant, too. These can include crepes, hand rolled sushi, a Noodle corner and others. The restaurant also serves alcohol – wine, sake as well as domestic and imported beers.
Finding Money Saving Coupons for Todai Restaurants
Todai coupons can help you to dine on all of this magnificent food at a lot less money. Then you can see why Los Angeles critic, Elmer Dillis, called Todai the "Mother of all seafood buffets."
Savings can be found throughout the online forum as well as in local coupon books. The first place to go is right to the company website.
Todai.com can tell you more details about the buffet, what kinds of things you'll find on the menu and help you to find a location that is closest to you. Here you can also sign up for Toby's E-Club. You'll join the club where you'll get a coupon on your birthday, regular emails including different specials, new foods added to the buffet as well as useful Todai coupons that can save you a lot of money when you done out.
Special Events and Social Media
As for birthdays, there are occasionally other specials that the local Todai restaurants will run. For details on these, call the Todai nearest you and they'll give you all of the details (and discounts) if they apply.
There is also a Facebook page that people can join, learning about all sorts of coupons that become available from the general community. As soon as one hits, many people will post. The administrator for Todai is also really great about replying to people, so you may even be able to ask where coupons are and get a direct response.
More Ways to Save Money at Todai
Regardless of whether you are traveling to somewhere in Southern California, Hong Kong or Seoul, Korea, you can dine at Todai and save. You can find Todai coupons that can be used at any location or specifically for one location. Before you print the coupon and get ready to redeem it, make sure it's valid for the address that you want to visit so that you don't get any surprises when the check comes.
Visit fatwallet.com and you can find various Todai coupons that can save you a lot of money. You can find one that gives you $10 off of $50. This means that you can buy as much as you want as long as the bill is at least $50 and get $10 off the total check. Another coupon that you can find is $5 off $25. This is a lunch coupon to entice people in to try the lunch buffet. As long as you spend at least $25, you get $5 off.
If you are taking a large group to Todai, coupons are available for you as well. You may want to look in one of the CouponSaver books in any California hotel or in the front of some grocery stores to see if you can find one of these coupons. You can find a 1 Free Adult buffet for a party of 6 or more coupon. There is another coupon that allows you to buy 4 Get 1 Free. This means that as long as you buy four buffets, you get 1 completely free.
Finding Todai Coupons Online
Yahoo or Google Images is a great place to find coupons, too. Many people will scan images of the coupons and post them up so people can print them off. All you need is a printer and a pair of scissors. Todai will accept all coupons as long as they are for the specific location and that the expiration date is available.
However you get your coupons, you can get great food at Todai. Each day, the buffet can be a little different. There is so much food displayed every day that it is possible for you to get something unique each day for a week and never leave hungry. There are many buffets throughout the country that offer all-you-can-eat, but none are of the same quality (or quantity) as Todai.