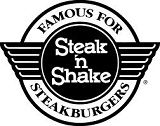 History of Steak and Shake
The Steak and Shake restaurant chain began in Normal, Illinois. Prior to 1934, Gus Belt operated a Shell gas station that also served chicken to customers. The name of the food counter, of course, was Shell's Chicken. In February 1934, Gus Belt changed the menu and also changed the name of his new venture to Steak and Shake.
The first storefront offered only counter service without providing customer seating. From these humble beginnings, the now famous hamburger and milkshake company began to grow steadily.
In 1939, Gus Belt added his second location in Galesburg, Illinois. Later that year, he also sold his first franchise. As a true pioneer in the restaurant franchise business, he became one the first and most successful developers of a new business model. Over the next 15 years, the business continued growing by adding new company restaurants and selling franchises. In 1954, the founder of Steak and Shake passed away.
The founder's wife, Edith Belt, began operating the company in 1954. She also adopted a new policy of slowing the expansion of the company to focus on improvements in menu quality, personal service, and customer satisfaction. From 1954 until 1969, the company added few new locations. Edith Belt sold the company in 1969.
For two years, Longchamps Incorporated owned the majority share of the company. In 1971, Longchamps sold its interest to Franklin Corporation. Under the direction of the Franklin Corporation, the company again instituted an aggressive strategy for expansion, terminated traditional carhop service, and focused on the now familiar drive-through window as the fastest way to serve customers.
Buying Steak and Shake

In 1981, E.W. Kelly and Associates bought Steak and Shake. This change in ownership also prompted a return to a policy of exceptional service and quality provided at an affordable cost. The burger chain began featuring made-to-order burgers again, cooked fresh, according to customer directions. The menu expanded to include a wider range of classic American dishes. In addition, E.W. Kelly and Associates extended hours of operation to 24-hours a day.
Steak and Shake operates in 22 states throughout the U.S. and includes more than 475 individual locations. The majority of these locations are in the eastern half of the country.
Ways to Save at Steak and Shake with Coupon & Discount Codes
The official company website is located at www.steaknshake.com. The company offers free membership in an eClub that provides members with Steak and Shake coupons and special discount offers. In addition, restaurants welcome birthday parties and family celebrations of all types and provide special accommodations. Especially during birthday months, members should expect several Steak and Shake coupon offers.
Steak and Shake accepts traditional applications for membership in the company club. Customers may sign up at any location to receive Steak and Shake coupons by regular mail. The company maintains a firm policy that children only receive offers and news by traditional mail to allow parental approval.
Steak and Shake boasts that it cooks its steak burgers to perfection and that its burgers are the best in world. All restaurants feature 100% ground beef patties. An exceedingly hot grill produces the signature taste. A full range of condiments is also available including an assortment of chesses, bacon and chili. The company's most popular item however is its classic double-patty cheeseburger.
Menu Items
The menu includes Chicago-style hot dogs, chicken fingers, bowls of chili and patty melts. Customers may order chef salads with grilled chicken, smoked turkey, or both. Because of 24-hour service, all locations provide breakfast items. For health-conscious customers, smoothies provide an alternative to Steak and Shake's decadent milkshakes.
All locations use real milk to make shakes and produce an extra-creamy texture. Fans of these treats also immediately recognize Steak and Shake mixing machines that restaurants display in storefront windows. The restaurant proudly displays Multi-Mixer machines for loyal customers to enjoy while waiting for one of the best milkshakes sold today.