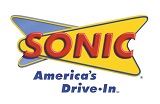 Sonic Drive-In
Sonic Drive-In is an American fast food restaurant that seeks to recreate the feel of the 1950s era drive-in restaurant. Customers place their orders through speakers near their car and carhops deliver them to customers' cars. Some do this while wearing roller skates like they did in bygone days.
Sonic Drive-In is headquartered in Oklahoma City, Oklahoma and operates over 3,500 restaurant locations in the US. Sonic began from the entrepreneurial efforts of a World War II soldier named Troy Smith Sr. who started a chicken restaurant and a root beer stand. The root beer stand proved to be tremendously popular, so it became the focus of his attention. Another entrepreneur by the name of Charles Pappe was impressed by the success of Smith's enterprise, so they joined forces to create the Sonic brand, presumably because the intercoms used to place orders directly to the kitchen provided service that was as fast as sound. Franchise plans were drawn up and by 1960 the success of Sonic was underway. Before the end of the 1970s, more than 1,000 Sonic locations were in operation.
Sonic-Drive-In was in trouble by 1980, however, because of non-standardized menus, quality, and business practice amongst its franchises. New franchise rules were established and with new standardized management and marketing practices, Sonic reemerged into profitability by the end of the 1990s.
Menu and Locations
Sonic is still known for its drive-in restaurant format and what has become its trademark menu. Items such as conies and tater tots are renowned tastes offered by the brand as well as Ched R Peppers. A frozen desert called a Blast has also become a signature item at the chain. Special drinks like limeade and soft drinks with different flavors added also make the dining experience at Sonic unique.
To this day, the original Sonic location in Stillwater, Oklahoma has the original Sonic sign and continues to be the most popular and the most famous Sonic locations. One of the earliest Sonic menus known to exist is housed at the Oklahoma History Center in Oklahoma City. The company has recently expanded into markets in the northeast and central US with its latest locations being opened in Connecticut.
Coupon Codes, Discounts, and Ways to Save at Sonic
Sonic coupons that are routinely distributed in Sunday edition newspapers in the markets they serve feature special deals to attract new customers and to introduce new products. Because of its standard marketing practices, customers near any Sonic can expect to find coupons for free or reduced price drinks, buy one get one free deals, and desserts. Printable Sonic Drive-In coupons can also be found on the Internet at sites, although they are not offered on a regular basis. Customers can also sign up for Sonic Cruisers, a mailing list that sends special offers, coupons, and other promotions directly to their email box.