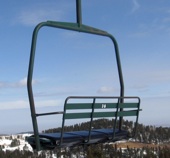 Saving Money on Ski Lift Passes
Wouldn't you love to take tomorrow off and go skiing? If the cost of a ski lift ticket is keeping you from doing just that, don't despair. You can locate a ski lift ticket coupon and be on your way before you know it. Let's look at a number of ways to do just that.
Ski lift ticket coupons will reduce the cost of your ski lift ticket. But where do you find these coupons? Actually, they are available all over the place, you just need to look. Your first stop should be the sports equipment store in your local area. They often have discount lift tickets or coupons for lift tickets for your local resort. For instance, Sports Authority often offers coupons for ski lift tickets with the purchase of a specific item. Stores such as Sports Authority also sell discounted tickets to your local ski resort.
Ski Lift Coupons and Discounts on Passes
Many times, skiers who purchase season passes to the local ski resort will receive ski lift ticket coupons or even free ski lift tickets. So if you have any friends who are serious skiers, ask them if they have any coupons. If they don't have a coupon, they probably know where you can get one.
Another good location to find ski lift ticket coupons is your local fast food restaurant. Did you ever notice that next to the register there are piles of coupons for one thing or another? During the winter season, there are often ski lift coupons here. Your local ski resort wants you to come up and ski all day, so they will do everything in their power to convince you to come to their resort.
Don't forget to check your local travel agent office or AAA office. This is another location where ski resorts will drop off a number of coupons to entice you to visit them this winter. Sometimes even high schools or colleges will receive these coupons. So don't be shy, ask around.
Getting Discounts Online
One obvious way to try to find ski lift discount coupons is through the Internet. Type your local resort into a search engine along with the word coupon and you should be on your way to some great deals. Even if you aren't able to print a coupon online, this method should give you numerous places to check for coupons. Check out the actual website of your local ski resort. Often times, they will have coupons that you can print. This is also the place to go to look for special ski days and rates.
Offline Coupons

A way to get a free ski lift ticket is to pay attention to advertisements in your newspaper and on the radio. A recent ad for a car sales company said that if you would test drive a car, they would give you a free ski lift coupon. If you don't have the money to purchase a ticket, this is a way to make it happen. You never know, maybe the car will turn out to be the model that you purchase in the future. Other companies that offer these kinds of incentives are banks and insurance companies.
If you live near a ski resort, your local newspaper may have coupons for discount ski lift tickets. Make sure to look through the sports section for coupons and specials. Travel guides are also another good place to find ski lift ticket coupons. Look in your local diners and perhaps take a ride to the nearest airport for these guides.
By now you should have a handful of ski lift ticket coupons, so head up to the slopes and enjoy the winter snow and fun!