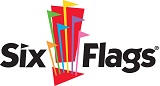 About Six Flags
Six Flags Great America is a Six Flags theme park located in the Chicago Metropolitan Area. The park first opened in 1976 under the management of Marriott Corporation. Six Flags, then owned by Bally Manufacturing, purchased the park in 1984. Six Flags was operated by several different parent companies from 1984-present, including Wesray Capital Corporation, Warner Brothers, Premier Parks and Daniel Snyder, who currently manages the company. In December 2005, Snyder took control of Six Flags appointing Mark Shapiro as CEO. Shapiro then began making vast improvements to insure Six Flags had a more family-friendly environment.
Six Flags Great America offers entertainment for the whole family with three specially themed children's areas, a 13-acre water park and a variety of other forms of entertainment. The newest addition is a wooden kiddie coaster, Little Dipper that will be in operation for the 2010 season. For those seeking an ultimate thrill, the park offers 11 attractions that received a max thrill rating, some of which include Dare Devil One, Raging Bull, Superman: Ultimate Flight, Tornado, and Vertical Velocity. The park also offers a variety of shows that can be enjoyed by the whole family.
Promotional Discounts, Coupon Codes, and Deals on Six Flags
General Admission tickets are available at the front gate for $54.99; however, a $20.00 per ticket discount can be achieved by visiting their website and clicking on Daily Tickets: Online Special. This is a convenient option that lets you purchase your tickets and print them at home, preventing a long wait-time in admission lines. To save even more money, individual season passes are also available for $64.99. If multiple visits to the park are planned, season passes offer many advantages. Some of which include:
1. Season pass ticket prices are the lowest in 18 years.
2. It pays for itself in two visits. Visit the park as often as you like and stay as late as you like.
3. On your first visit, you get four free tickets for friends to use.
4. Receive over $300 in discounts on food, souvenirs, games and more.
5. Enjoy the Season Pass holder Private Night in September.
6. Six Flags Great America Season Pass also includes free admission to Hurricane Harbor Water Park.
7. Free Concerts.
8. The Six Flags Great America Season Pass is accepted at all Six Flags Theme Parks.
Additional Coupons

Six Flags Great America also offers special group pricing for associations, companies, schools, religious organizations, youth groups and reunions. When tickets are purchased in advance, a group of 20 people will only pay $29.99 per person and will also receive one free chaperone ticket. Tickets can be purchased by mail, online, or by phone.
Groups of 20-99 will enjoy a "Picnic in the Park" featuring a buffet meal with paid admission. This is only available on select days and space is limited so early booking is advised. This can be done by calling (847) 249-1952. Groups of 100 or more will enjoy a customized package including an all-you-can-eat buffet and discounted admission. An online request form can be downloaded from the website or by calling (847) 625-7518.
The park also offers group meal vouchers or the option to have your event catered. In which case, park representatives will take care of the setup and cleanup of your meal in your own private picnic area.