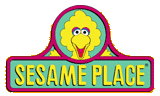 A History of Sesame Place
Not many things make young children smile more than the lovable characters from Sesame Street, which makes Sesame Place a favorite spot for a family getaway. Elmo, Cookie Monster, Big Bird, Ernie, Bert and the rest of the gang welcome guests to this fun-filled theme park from the beginning of May until the end of October every year.
Located in Langhorne, PA, Sesame Place first opened in 1980 as a 3-acre play area complete with computer labs. Since then it has expanded into a 14-acre full-fledged amusement park filled with roller coasters, water rides, shows, and other attractions. Operated by SeaWorld Parks and Entertainment, a division of The Blackstone Group, Sesame Place is proud to be the first theme park in Pennsylvania to become totally smoke-free.
Guests will find that there's no shortage of things to do during a visit to Sesame Place. Big Bird's Rambling River and the Vapor Trail make easy rides for younger children, while the 6-story high Sky Splash and Nets 'n' Climbs stand out as some of the more high-energy attractions for older kids. Along with the multitude of rides, Sesame Place also offers a variety of entertaining shows, including Elmo's World Live, Rock Around the Block Parade, and Abby Cadabby's Treasure Hunt. Meanwhile, special events, such as the Count's Spooktacular during October, lure in more Sesame Street followers. Plus, fireworks fans will want to visit the park during Memorial Day, Labor Day, 4th of July, or Labor Day for an exciting show.
Finding Deals, Promotional Discounts, and Coupon Codes for Sesame Place
Sitting 30 minutes north of Philadelphia and 90 minutes south of New York City, the park provides a convenient location for people on the east coast. Season passes prove to be the most affordable option for those living nearby who plan to visit the park on a regular basis. Differing levels of passes mean families can choose which works best for them. For those living farther away, Sesame Place offers a list of preferred hotels to make planning easier.
Locals and travelers alike can enjoy the many other ways to save on a trip to Sesame Place. Tickets cost more during the peak season, which is June 21 – September 6, so visiting during the spring or fall may be easier on the pocket book. Buying tickets at least 14 days in advance means customers can enjoy a discounted prepaid rate. Bringing a Pepsi can also cut around $10 off the regular peak-season price of $53 per ticket. Checking for specials with other retail sponsors, such as McDonald's, Burger King, Wendy's, Walgreens, CVS, or AAA (just to name a few), can provide additional ways to save.
Visiting the park with lots of friends can slash prices even more since larger groups of 15-plus people can receive group rates. Companies may want to check out Sesame Place's corporate discounts designed for 100 or more people at www.clubsesameplace.com. The best way to reap the benefits of any of these discounts is to check out the Sesame Place web site, www.sesameplace.com, for the latest savings updates.