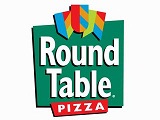 Round Table Pizza History
After starting in 1959 with one restaurant location on a limited amount of funds, Round Table is a lot different as far as a business goes, but still carries on its core values of integrity, quality and trust. That's why it boasts itself as being the "last honest pizza" company. With its offices in the California town of Concord, Round Table originated in Menlo Park. In 1962, several years after its founding, Round Table Pizza began offering new franchise opportunities. From that time until now, the Round Table Pizza has developed into a well recognized chain with hundreds of stores.
One of the highest principles of Round Table Pizza was to have a family atmosphere where people could come to eat and relax. In spite of its success, Round Table Pizza has always understood the significance of a family's meal. It also has never wavered in its quest to make the most delicious pizza that can be found. The pizza dough used by Round Table Pizza is homemade from fresh ingredients. Toppings are only of the highest quality. Round Table's success is evidence of the high standards of food preparation, and priority customer service customers have grown to expect.
While many recall that the round table theme was derived from the round family dining table, the signature logo of King Arthur dining on pizza was first used in the 60s. 3 new shields were added to the logo in the 1970s representing three letters that spell one of their traits: FUN.
Additional Menu Items
The changing tastes and needs of the public have helped Round Table Pizza to evolve beyond its flagship pizza products. Customers are no longer limited to pizza, meaning they can come back over and over again to try new menu items. Round Table now offers a menu that includes a variety of new items that includes gourmet sandwiches.
Ways to Get Discount Codes and Promotional Coupons for Round Table Pizza
People interested in Round Table Pizza can find printable coupons online at various coupon sites, but the best place is to look at RoundTablePizza.com. Just browse to their Web site and then click the coupons icon. You can also look in the newspaper to get coupons for use at your nearest Round Table location. Because Round Table Pizza wants new customers to try its pizza and it wants old customers to come back, printable coupons are often available to allow people to try new menu items or experience Round Table again.
You can even get Round Table Pizza coupons online. Just to sign up to receive Round Table emails by clicking the email deals section of the site. After signing up, you should receive a coupon right away for a discount on pizza. Always look in your email box too since you will receive coupons and other communications from Round Table Pizza.