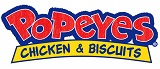 About Popeye's Chicken
Popeye's Chicken is an international fast food chain that primarily sells fried chicken and biscuits. The company is headquartered in Sandy Springs, GA and has been in business since 1972. To date the fast food fried chicken chain owns over 1,800 restaurants in 40 different states and 20 countries. The vast majority of the restaurants are franchised as only 30 of the locations are company owned.
The company is best known for selling Cajun style chicken at an affordable price. Most customers who visit Popeye's Chicken order a combo platter which often includes at least one side and a buttermilk biscuit. The sides which are available to customers include mashed potatoes, corn, Cajun rice, and Cajun style gravy. The combo meals available at Popeye's Chicken range in size from small three piece combos up to much larger combos that could feed an entire family. The fried chicken sold by Popeye's ranges in flavor from mild to spicy flavored chicken.
Find Coupons, Discounts, and Coupon Codes for Popeye's Chicken
While Popeye's Chicken is a very affordable meal option, many people could still benefit from finding printable coupons online. Through the online coupon website Retail Me Not, customers can find many coupons which would help save on the costs associated with eating at Popeye's Chicken. Many of the coupon's available on this website offer discounts on combo deals. For example, a customer of Popeye's could print a coupon that offers a 15 piece mixed chicken plus 2 sides and 7 biscuits for just $16.99. Another popular coupon is for a 3 piece of mixed chicken plus a biscuit for only $2.99.
Possibly the best place to find printable Popeye's Chicken coupons is through the Popeye's website. On their website, customers can type in their current location and the website will automatically generate a list of coupons which are accepted at local restaurants. These coupons can save quite a bit of money and are extremely reliable since they were generated with a specific location in mind.
Offline Coupons
While there are many ways to find printable coupons, Popeye's at times provides pre-printed coupons for their customers. The coupons printed by Popeye's tend to vary, but often include discounts on combo platters. At times Popeye's will send out offers for free products including free chicken, free biscuits, and free sides. To receive these coupons, customers should sign up for direct mail coupon booklets or check local newspapers. The restaurant has been known to use both to send out their coupons.