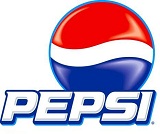 About Pepsi
Pepsi is a cola-flavored carbonated beverage. It is manufactured by PepsiCo.
The first Pepsi was invented by a man named Caleb Bradham in New Bern, North Carolina in the late 1890s. Bradham was a pharmacist by trade. At first, Pepsi's name was "Brad's Drink." Bradham's intention was to invent a beverage that would be tasty, increase energy, and be a digestive aid. The primary ingredients in the syrup used to make Pepsi were pepsin and kola nuts.
History of Pepsi
In 1903, Pepsi-Cola began being made outside of Bradham's pharmacy. The operations had grown enough that he began renting a warehouse to mix the syrup. Almost 8,000 gallons of syrup were sold that year. 1904 saw the bottling of 6 oz bottles of Pepsi-Cola and nearly 20,000 gallons of syrup sold. Eventually, the first endorsement by a major celebrity of the time, race driver Barney Oldfield, gave the drink's marketing a boost. For the next twenty years, Pepsi's slogan was "Delicious and Healthful."
The Pepsi-Cola Company filed for bankruptcy during the Great Depression in 1931. The cause of insolvency is typically considered to be the company's speculation in the unstable sugar cane market. The company again entered into bankruptcy in 1939, when it was purchased by Loft, Inc. Loft was a candy manufacturer that was embroiled in a dispute with Coca-Cola, which refused to give the candy company a discount on Coca-Cola syrup. The purchase of Pepsi served to vertically integrate Loft's business operations.
The Pepsi beverage first achieved widespread market share in the depths of the Great Depression. The innovation of 12 oz bottles, which were eventually priced at a nickel apiece, brought Pepsi-Cola to a larger customer base. Given the economic climate at the time, Pepsi's pricing was the same as Coca-Cola, but for twice as much soda.
New Marketing Focus

Another major Pepsi marketing initiative was the company's realization that African-Americans were a largely untapped market for the soda business. Targeting African-American consumers specifically, and even going so far as having an all-black team of salesmen to capitalize on the marketing campaign, Pepsi-Cola established considerable inroads with a demographic segment with low competition.
Coupon Codes, Discounts, and Ways to Save on Pepsi
Coupons and advertisements for discounts on Pepsi can regularly be found on the PepsiCo company website, which can be found at www.pepsico.com. The availability and amount of the coupons and discount advertisements are subject to change on a week-to-week basis.
Additionally, many grocery chains and service stations will offer discounts on Pepsi on a regular basis. For local coupons and discounts, check with your local retailers. Typical discounts will depend on the base price charged for Pepsi, but discounts of 99 cents or less for a 2L bottle are relatively common in most US markets. International prices are typically lower, particularly in India.