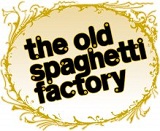 History of the Old Spaghetti Factory
The first Old Spaghetti Factory restaurant opened on January 10, 1969 in Portland, Oregon. Two more restaurants were opened in 1970. Today the chain has restaurants in 14 states, Canada and Japan.
Menu Options
The Old Spaghetti Factory specializes in pasta dishes. Dinner entrees come with a salad or soup, bread, a choice of drink and a choice of dessert. Customers can choose the dressing for their salad. The bread is available with or without garlic butter. Servers will bring more bread if it is requested. The choice of drinks includes coffee, hot tea, iced tea, soda or milk. Dessert is spumoni or vanilla ice cream. Other drink and dessert choices not included in the basic meal are available. One of the menu choices available for lunch or dinner is unlimited soup and salad that is served with bread. There is a separate menu for children.
Lunch and dinner are served at most locations. The lunch menu includes sandwiches. A few of the restaurants do not serve lunch. Almost all of the food is made on site at the restaurants.
Off site catering is offered at a few locations. Food to go can be ordered from the restaurants. A call ahead program is available. Customers can call one of the restaurants after 5:00 p.m. up to an hour before they plan to arrive. They will be told what the current wait time is. After they check in at the restaurant they will be told what the remaining wait time is. Some locations have large rooms that can be reserved for private events.
Restaurant Atmosphere

Diners at the Old Spaghetti Factory will notice that the chairs at the tables do not all match each other. The company furnishes the restaurants with antiques. Some of the restaurants have trolley cars in the middle of the restaurant for additional seating.
Some of the restaurants have bars with plentiful seating where guests can order drinks and appetizers while waiting for their tables.
Coupon Codes, Discounts, and Ways to Save at Old Spaghetti Factory
Old Spaghetti Factory coupons are not always offered by the company. Some discounts and specials are occasionally available. These discounts and specials may be for the whole chain or only for restaurants at selected locations. Children can participate in the Birthday Club. When they join the club they will be able to receive coupons for free birthday meals. The Old Spaghetti Factory donated 2,000 kids' meals as prizes for a summer reading program in Portland in 2008.
In January, 2009 and January, 2010 the Old Spaghetti Factory offered special deals to celebrate the restaurant's 40th and 41st anniversaries. Prices were reduced by 40 percent in 2009 and by 41 percent in 2010. At two locations in California the 40 percent discount was offered every Tuesday from January through May. The anniversary discounts were not available for meals to go. Prices were also reduced in some locations to celebrate the restaurant's 35th anniversary several years earlier.
The Old Spaghetti Factory provides plentiful food for reasonable prices. It is served in an unusual atmosphere.