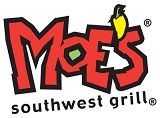 About Moe's Southwest Grill
Moe's Southwest Grill is a relatively new creation, but it has taken hold in many areas of the country. Founded in 2000 in Atlanta, Georgia, Moe's has grown to take in more than $300,000,000 per year and it has become one of the most popular fast food type of restaurants for Tex-Mex food. Additionally, individuals have found that using Moe's Southwest Grill coupons to save money is an excellent way to eat good food on a nice budget. This chain is owned by food conglomerate FOCUS Brands, and it is a place that is known for its distinctive food and its welcoming nature. When people enter a Moe's restaurant, they are greeted with a warm, "Welcome to Moe's!" by employees of that particular location.
Moe's Southwest Grill still retains its headquarters in Atlanta, but the restaurant has expanded significantly since those early days. Now, there are more than 350 locations across the country in 35 states at last count. They have grown to this size by offering their unique brand of atmosphere and good food. Those using Moe's Southwest Grill coupons are generally there to get the burritos, which are grilled and filled with lots of tasty ingredients. The most popular Moe's creations are the "Homewrecker" and "Joey Bag of Donuts", which are both burritos filled with either steak, chicken, or now a healthier option of Tofu. Additionally, Moe's Southwest Grill takes its atmosphere very seriously, as it's casual with a nice vibe. They play older music and keep it light.
Locations
Some of the most popular locations for using those Moe's Southwest Grill coupons are throughout the South. Atlanta is a popular place with many Moe's locations all around the city and into its suburbs. Additionally, major universities around the South have Moe's locations, with one of the most popular being Clemson University in South Carolina. At that Moe's and many others, there are offers to take advantage of, such as $2 burritos on the second Tuesday of every month. These things keep hungry diners coming back for more, each and every month of the year.
Promotional Discounts, Coupon Codes, and Deals on Moe's Southwest Grill
Moe's is known for holding many different seasonal promotions. The stores have a lot of freedom to operate and make their own decisions on when to offer these promotions, so they end up being somewhat different at each restaurant. As with the offer of $2 burritos on Tuesday, many of these special promotions are intended to bring people into Moe's on days when they normally would just eat at home. This is a part of the restaurant's operating plan, so it figures that most store owners would be encouraged to make it happen.
Many people wonder what the best ways to get Moe's Southwest Grill coupons happen to be right now. One of the best ways is to sign up for the Moe's bonus card. With that card, you get it punched one or two times every single time you make a purchase at Moe's. This is one of those Moe's Southwest Grill coupons that allows you to get a completely free meal after you have purchased 6 or 8 meals. The nice thing is that at some locations, the employees will help out customers by giving them multiple punches on their card.
Additionally, Moe's Southwest Grill coupons are available through the Moe's company website every so often. They periodically update the site to reflect these things, which entices individuals to visit there regularly. Moe's is big on providing these coupons to people, which makes a lot of sense from a business perspective. Offline, folks have found success with Moe's Southwest Grill coupons in their local newspapers, as this is a popular and cheap advertising method.