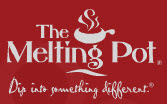 History of the Melting Pot
The Melting Pot is a chain of fondue restaurants all throughout the US. Including more than 140 locations in 37 states and Washington DC, the restaurants are each individually franchised. The original restaurant opened in Florida in 1975; the first Canadian franchise is set to open in 2010.
The Melting Pot serves a series of fondues, including cheese, oil, and chocolate. Meals consist of four courses, usually starting with a salad, followed by a cheese course, meat course, and dessert. Restaurants do offer vegetarian options for the main course. They also serve a range of fine wines. Customers can purchase a selection of their salad dressings, chocolate, and other seasonings, as well.

Charitable Involvement
The Melting Pot is very involved with the St. Jude Children's Research Hospital in its fight to end childhood cancer. Restaurants support a series of fundraising efforts throughout the year. Many participate in St. Jude's "Thanks and Giving" fundraising effort, which typically runs in November and December. During the fundraiser, restaurants donate $1 for each purchase of a "Big Night Out," four-course meal. If customers make a donation of at least $10, they get a Fondue for the Kids Card, which gives them $20 off any purchase of $50 or more. All proceeds from that card are donated to the hospital.
The Melting Pot Club Fondue
The Melting Pot's loyalty rewards program is known as Club Fondue. Customers can sign up online or at their local restaurant. Membership is free. Upon signing up, new members get a coupon for a free Chocolate Fondue for two people. Club Fondue also e-mails printable coupons to members in honor of their birthdays and anniversaries. Many locations offer Sweet Sixteen birthday specials, for around $26, along with many others, even invite-only events specifically for members.
Getting Discounts and Coupons for use at The Melting Pot
Because each location is individually owned and operated, different restaurants often have different events and savings offers. These can range from ladies nights to wine tastings, among many others. People can go to The Melting Pot's website, find their local restaurant, and see a list of local promotions. Examples of past promotions include "Fondue and a Flick," military nights, or sunset specials. Some restaurants even have repeat customer rewards programs where customers accrue points for every dollar spent; after 200 points, they get a $25 gift certificate. Other restaurants are even hosting Olympics-themed promotions where people who order a four-course dinner can win gold, silver, or bronze medals redeemable for free dinners, free cheese fondue, or $10 gift certificates.
Other Offers
Many franchisees participate in the yearly Entertainment Coupon Book. Past coupons have offered customers a complimentary dinner entrée with the purchase of another dinner entrée. Locations may also offer deals on Restaurant.com, where people can purchase a $25 Melting Pot coupon for $4-$6, for example. All coupons come with an expiration date, so people should be sure to use them before they expire. No photocopies are accepted.