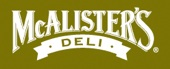 McAlisters Deli History
Few places are as good at providing quality, unique food as McAlister's Deli. When this restaurant first opened in 1989 in Oxford, Mississippi, it was designed to fill what the original founders noticed as a huge void in the food service industry. There were lots of places to sit down and get a good meal and there were lots of places to get bad food quickly. What was missing was a place where individuals could get a quality meal very quickly. This is what people get when they choose to use their McAlister's Deli coupons for a solid soup or sandwich.
Dr. Don Newcomb started the company way back when as something of a pet project. He was a successfully retired dentist and wanted to try his hand at something new. From there, the business has certainly see levels of success that even an optimistic Newcomb could not have imagined in his wildest dreams. There are currently locations in over 20 states, ranging all across the country. Currently, there are 290 total locations, where people can get their unique sandwiches, different soups, and lots of other offerings that are not available at the run of the mill fast food establishment. That is what the company was built upon way back when, and it's what you'll get with McAlister's Deli coupons today.
So what are these places known for? The sandwiches are an obvious choice, as people can get either cold cut sandwiches or something hot like the French Dip. The also do salads and soups in addition to their sandwiches, which gives people who like to eat there a lot quite a few choices to go with. Additionally, one of their most popular menu items is the Texas-sized "spud". This loaded type of potato is not the healthiest thing in the world, but it has a lot of taste and it has become something that customers of McAlister's really love. They try to provide healthy choices overall, but as with any restaurant, there are ways to make McAlister's a little bit less healthy.
There are not any particular locations that stand out as being more popular than others, but it is worth noting that all McAlister's locations have the same type of feel and theme. It was originally started with the look of an old gas station and though that has been updated, some of the original trappings remain in new designs. For instance, the restaurants feature black and white tile that has become their staple. Additionally, these restaurants stretch to places like New Mexico, where they are new and still fresh in the minds of the food consumers there.
Find Coupons, Discount Codes, and Special Deals for McAlister's Deli
If you are looking to find the best possible McAlister's Deli coupons, then know that you have quite a few options to choose from. First of all, people need to grab a McAlister's Card, which gives them the ability to notch one hole every time they make a purchase. This way, when you go in and buy a few meals, you will get one free after a while. This is a good way to get something for your loyalty, and it is the primary way that folks use McAlister's Deli coupons today.
Additionally, they do a lot of advertising offline, especially in magazines and newspapers. Since McAlister's is something of an "upscale" fast food restaurant, they are often found advertising to a more wealthy demographic. Online, the options are limited for finding McAlister's Deli coupons, since the primary website of the company does not readily offer any sort of special or any type of printable coupon for its customers to use.