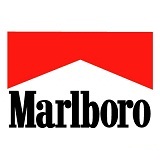 Marlboro Cigarette History
Marlboro began as a British company, named after its first factory site on Great Marlborough Street in London. In 1902, a branch of the company opened in New York. By the 1920s, Marlboro cigarettes were being advertised in the U.S. as a mild, woman's brand. Things went well for the company until after the Second World War when it was out-competed by other brands that had built up a market among the troops. Marlboro began to seek a more masculine customer base in the 1950s and 60s, associating the brand with the American West, "Marlboro Country," and the rugged "Marlboro Man".
Marlboro produces a range of different cigarettes under the names:
Marlboro Reds
Marlboro Medium
Marlboro Lights
Marlboro Ultra-Lights
Marlboro Blend No. 27
Marlboro Virginia Blend
Marlboro Menthol
Marlboro Menthol Mild
Marlboro Menthol Lights
Marlboro Menthol Ultra-Lights
Marlboro Menthol Blend No. 54
Marlboro Menthol Smooth
Marlboro Special Blend
Marlboro Special Blend Gold
Get Money Saving Coupons and Coupon Codes for Marlboro Cigarettes
The Marlboro website is the main source of discount codes and printable coupons. These are only available to people who have registered to use the site. Registration involves providing proof of age, such as a social security number. You have to be over 21 and a U.S. resident in order to access the site and get at the discounts. You also have to confirm that you are, in fact, a smoker. You will also be able to choose whether you want to be contacted by mail, email or both, although you can change your mind bout this at any time after you are registered.
There is an opportunity during registration to enter a promotional code when you join the site in order to get some extra offers. Codes can be found on some packs of Marlboro cigarettes as well as on flyers and other promotional material.
Once you are a member, you will receive special offers, coupons and discounts that can be used online, printed or sent to you by mail, and you will get the chance to enter competitions and sweepstakes. You will even be sent a gift on your birthday.
Additional Coupon Options

The company that owns the Marlboro brand, Philip Morris USA, also runs the site smokersignup.com, which provides discounts and coupons for all of their brands, including Marlboro. As with the main Marlboro site, you will have to provide proof of age before you can sign up to receive these offers.
If you do join the mailing list then you can expect to receive gifts and cigarette coupons in the mail, as well as being able to access discounts online by logging in to the website. You will also receive information and offers relating to other Philip Morris brands and products. Philip Morris owns a number of other cigarette brands, such as Parliament and L&M.
Typical discount coupons from Marlboro or Philip Morris are for a dollar off a pack of cigarettes or four dollars off a carton of cigarettes. Marlboro cigarette coupons and codes can be used in stores and when shopping online.
Cigarette coupons do not appear offline in newspapers or magazines due to the need to comply with age restrictions. Promotional codes that can be used on the Marlboro website may appear in print advertisements.