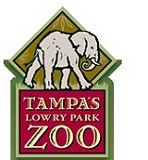 About the Tampa Bay Lowry Park Zoo
The Tampa Bay Lowry Park Zoo is a beautiful, family friendly zoo in Tampa Bay. This 56 acre, beautifully landscaped zoo is home to over 2,000 animals, living in reproductions of their natural habitats. The Lowry Park Zoo, rated the best zoo in the United States in 2009 by Parents magazine, is one of the most beautiful zoos in the country, and a truly worthwhile adventure!
In addition to showcasing exotic animals, the Zoo also has a strong mission of conservation and education. Their mission, "to connect people with the living earth," is well accomplished through a number of exciting interactive exhibits, that allow every visitor to get up close and personal with amazing creatures. Visitors can interact with numerous animals, feeding the giraffe and white rhino, riding atop a camel, serving as a landing perch for budgies and lorikeet, petting stingray, and interacting with a variety of mammals, amphibians and reptiles at the Wallaroo Station Petting Zoo and Discovery Center – all of these animals are amazing to see.
Historical Background
This zoo is always expanding, always growing, always improving. In 1991, the zoo Manatee and Aquatic Center opened. This amazing facility helps rehabilitate injured manatee for release to the wild. An amazing underground viewing cave lets visitors get up close to these gentle creatures, as well as with various turtles and fish. In 2004, the Zoo opened its largest exhibit ever – Safari Africa. This amazing section of the zoo is beautifully decorated to feel like an African village, and is filled with animals from the savanna. This exhibit features zebras, giraffes, elephants, meerkats, wart hogs and more, all in beautiful displays that mimic their natural habitats.
The Lowry Park Zoo is open seven days a week, every day of the year, except for Thanksgiving and Christmas. Adults 13 and over are $20.95, seniors are $18.95, and children 3-11 are $15.95. Children 2 and under are free. Parking is ample, and always free. For the most up to date information visit www.lowryparkzoo.com.
Promotional Discounts for the Tampa Bay Lowry Park Zoo
While the Zoo does offer a number of discount programs, coupons to the Zoo are not easy to come by. There are no printable online Lowry Park Zoo coupons. However, the Zoo does often print coupons in a local tourist publication, called the Guide Map to Tampa Bay. This fold out pamphlet contains a complete map to the bay area, along with coupons to various attractions; often, Lowry Park advertises in this publication, offering buy one get one half off tickets, sometimes even better. These are available at many tourist attractions throughout the bay area, including John's Pass on the Gulf, Clearwater Beach and more. Lowry Park Zoo also has a discount in the Tampa area Entertainment Book.
While coupons are hard to come by, the Zoo does offer a number of discount programs. The Zoo has an annual zoo pass for $125 a year, which allows unlimited admission to the Zoo, as well as admission to numerous reciprocal zoos around the country. On Mother's Day, all mom's get in free, and dad's are free on Father's Day. Lowry Park Zoo offers free admission on one's birthday, and free admission for active duty serviceman and reservist on Memorial Day. AAA members can save $2 on each adult, senior and child's ticket, group tickets are also available. One very popular discount program at the Lowry Park Zoo is $5 day. These days come a few times a year; in 2010 they are May 16th and July 18th. No matter the cost, one thing is certain, a day spent at the Lowry Park Zoo is always a day well spent!