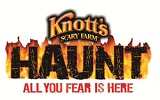 About Knotts Halloween Haunt
Knott's Berry Farm, the amusement park located in Buena Park, California, started with modest beginnings as a roadside fruit stand. Walter Knott sold berries and pies off Route 39 in a small Orange County town in the 1920s. After learning about a new breed of berry developed by Rudolph Boysen, he decided that boysenberry crops (Knott developed the name) were a worthwhile addition to his farm.
To add to their modest income, his wife Cordelia began serving chicken dinners and the pies for dessert. As traffic on Hwy. 39, now known a Beach Blvd., grew the restaurant gained many customers who often had to wait for over an hour to be served. Walter Knott's entrepreneurial spirit gave him the idea to build a ghost town where the guests could wander before and after dinner. During the 1940s he collected authentic buildings from ghost towns in California and Arizona and created his own version of the Wild West. A steak restaurant was added along with more attractions and the park remained free of charge to visitors until 1968.
Knotts Berry Farm Today
Today, the food products including signature boysenberry jam are handled through a corporate office in Placentia. Knott's Berry Farm has become a world recognized amusement park with hi-tech rides, exciting attractions for kids and the famous Halloween Haunt event. Many of the original ghost town buildings were returned to authentic sites such as Calico but reproductions fill the void and provide the flavor of the Old Town attraction.
Rides and Attractions at Knott's Berry Farm
Knott's Berry Farm is a true family adventure park because there are rides and attractions for all age groups. Small children will enjoy colorful Camp Snoopy where miniature racetracks, low flying mini-thrill rides and bouncy house attractions keep kids occupied for hours. Teenagers thrive in the Park and line up for the nine exciting roller coasters including the super speed Montezooma's Revenge. The rides are categorized as aggressive thrill (level 5) and high thrill (level 4) and provide plenty of adrenalin rush for both teenagers and adults. Buena Park experiences many warm days throughout the year and the water rides at Knott's are always popular. Three level 5 water rides take passengers through rapids, plummeting down a log or on a roller coaster over a towering fountain.
The Halloween Haunt Event

Since 1973, the Knott's Scary Farm Haunted House has gained momentum and added dozens of fun activities. This popular seasonal event draws crowds from all over the country who have heard about the thrills and excitement that take place during October in the Park. For one evening admission price, visitors come prepared for a full night of spooky encounters and are rewarded with scary images that pop out all around, haunting sounds and high energy thrill rides. Special attractions that are installed just for the Halloween Haunt event include a series of mazes each with a story line, scare zones that include live actors and roaming monsters, ghosts and goblins.
Where to Find Coupons for the Knotts Halloween Haunt
At the beginning of fall, usually after Labor Day, Knott's Berry Farm begins releasing advertising promotions for the Halloween Haunt. The event normally runs from mid-September until Nov. 1. Several sponsors including Burger King typically offer coupons with savings around $20 per person. Group discounts for 24 or more people are also available. Moderate discounts for general admission, around $10, can be found through websites such as www.goingtocalifornia.com but additional admission fees are charged for the Halloween event. At Knott's website, www.knotts.com/shop/the-haunt.cfm, two tickets can be purchased for specific dates in advance for $59.00 or four tickets for $99.00.