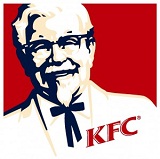 Learn About Kentucky Fried Chicken
Famous for its original recipe and extra crispy chicken, Kentucky Fried Chicken continues with the same secret blend of 11 herbs and spices Colonel Harland Sanders started with more than 50 years ago.
The Colonel's secret recipe, which made famous the phrase "finger licking good chicken," remains a trade secret today.
Sanders opened his first restaurant, he called the Sanders Court & Cafe, at a gas station in Corbin, Kentucky in 1930, carrying on as station hand, chief cook and cashier.
Within ten years, the original recipe was born. Then in 1952, the first KFC franchise was established by a handshake and the promise of a nickel fee to Sanders for each chicken sold. To further his franchising efforts, Sanders traveled around the country cooking his chicken for interested restaurant owners.
Additional Menu Items

KFC now offers corn on the cob, mashed potatoes, cole slaw, macaroni and cheese, potato wedges, biscuits and cornbread. Wings, nuggets, chicken strips and popcorn chicken are also on the menu while pasta or macaroni salad, garden salad and three-bean salads are offered at some KFC restaurants.
Pot pies, made with chicken, gravy and vegetables, can be found at KFC along with the KFC Twister, a wrap that consists of chicken strips or roasted chicken, lettuce and tomato wrapped in a tortilla. And KFC restaurants with buffets offer many vegetarian items.
How to Get Coupon Codes and Promotional Savings at KFC
Consumers have access to online coupons by simply entering their zip codes at www.kfc.com.
For example, a coupon for $16.99 for the Variety Bucket Meal expires on February 28, 2010. The Variety Bucket Meal allows you to make three selections from a choice that include 4 pieces of chicken, 4 original recipe strips, 8 hot wings, 8 HBBQ wings, 1 large popcorn chicken or 1 family size potato wedges. The choice of 2 large home-style sides and 4 fresh biscuits are also included in the Variety Bucket Meal.
In addition to the online coupons, consumers can receive a booklet of coupons mailed to their homes which have the valid time printed on them. KFC also offers membership to the Colonel's Email Club. The membership includes email communications such as new product information or online couponing. Simply sign up at www.kfc.com.
History of KFC
In 1964, Sanders sold his interest in the company for $2 million to a group of investors headed by the future governor of Kentucky, John Y. Brown Jr.
In 1971, Hueblein acquired KFC and in 1982 the company became a subsidiary of RJ Reynolds Industries. In 1986 PepsiCo acquired KFC from RJ Nabisco and spun it off as Tricon Global Restaurants, which changed its corporate name to YUM! Brands in 2002.
KFC, which is based in Louisville, Kentucky, runs more than 5,200 restaurants in the US and more than 15,000 locations worldwide. KFC is part of Yum! Brands, the world's largest restaurant company, with revenues of more than $11 billion in 2008. And everyday more than 12 million customers enjoy dining at KFC restaurants in more than one hundred countries.
On December 16, 1980 Sanders died from leukemia. Yet despite his death, Sanders remains a very important part of the company.