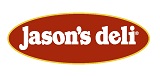 History of Jason's Deli
Jason's Deli has been around for over thirty years creating great food for customers who have come to expect nothing but the best from them and being satisfied. Emphasizing real, quality, healthy foods, Jason's uses only the best ingredients from the best sources. Recently, Jason's took on a campaign that has eliminated artificial trans fats from all of their menu items. They have also eliminated MSG from their menu items and have eliminated high fructose corn syrup from everything they offer with the exception of soft drinks, although they have alternative drinks available. Jason's Deli has also given attention to sodium levels in the food they offer so that the overall contend has been reduced. This is probably why a national magazine for parents has identified Jason's as one of the healthiest places to eat in the United States.
Jason's Deli currently operates a couple hundred stores across the country. They have taken initiative to be involved in the community surrounding each location by looking for ways to contribute to the effort of helping those in need. Jason's has a box lunch program for churches and schools that provides healthy meals at low cost. They also consider donation requests and support local charities whenever possible.
Charitable Work
Food donations from Jason's are part of its nationwide effort to be concerned about the people in need around their locations. There is a form at the Jason's Web site that can be filled out that charities can use to request donations that go toward feeding the hungry. It's nice to know that when you patronize Jason's Deli, you are truly supporting a morally conscious business that is concerned with more than just making profits.
Another way Jason's helps the community is by the provision of J.D. Pickle rewards that are given to teachers for free that give Jason's food to students as incentive for performance. Those who work hard or show the most improvement can earn these reward cards and redeem them for a special time at Jason's Deli.
Community Involvement
Jason's Deli also supports non-profit organizations that work in communities. For example, the Miracle League is one of their favorite beneficiaries. The Miracle League gets disabled children active and involved in sports and other activities. This contributes to the well being of the disabled, plus gets them outdoors and involved as a vital component of society.
Find Coupons and Printable Discount Codes for Jason's Deli
Jason's Deli often has coupons available online that you can print out and use at your local deli. You can also sign up for Jason's e-mail list that sends you periodic coupons, specials, and news about Jason's Deli. Third party coupon sites also have coupons available for Jason's Deli locations. Many coupon opportunities involve a free dessert, a free item for multiple parties, or discounts off regular prices. You can also look in your Sunday newspaper to see if your local Jason's has any special offers going on.