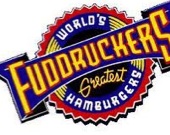 History of Fuddruckers
Fuddruckers is a casual dining restaurant chain in the United States and in a number of other countries around the world. These restaurants usually have a rock 'n roll type of décor and feature varieties of gourmet hamburgers.
Fuddruckers has its beginnings in San Antonio, Texas, when a man named Phillip Romano built a hamburger restaurant in an old bank building. He was on a quest to create a perfect hamburger, and worked on the premise that customers like big burgers on good bread that they can build themselves. Thus, the legendary Fuddruckers restaurant chain was born. Romano managed his company from 1980 until 1988 when he sold the chain to Michael Cannon. Romano went on to start another restaurant chain, Romano's Macaroni Grill, but Fuddruckers continues to be true to the original vision of fresh (never frozen) meat and great fixings to make the world's best hamburger.
Notorious at Fuddruckers are the large burgers served in baskets and a large self serve fixings station where customers can customize their burger to their specifications. The fixings available usually include a generous variety of veggies, seasonings, cheese toppings, and traditional and custom condiments. Fuddruckers' menu also includes salads, kids' meals, chicken sandwiches, and all beef hot dogs. For those wanting the world's greatest burgers at a family or business event, Fuddruckers has a catering service. Fuddruckers gear and gift cards can be purchased either online or at their physical locations.
Fuddruckers has a bakery that offers several varieties of cookies and other desserts. Their trademark bakery cookies can be purchased individually or by the tray so you can bring their sweet taste home with you. New in 2009 were Fudds Freezes, creamy milk shakes blended with favorite soft drinks to make an incredibly unique taste from traditional burger joint favorites. In 2009 Fuddruckers also announced its Fudds Prime campaign, better beef with a secret formula to make the best hamburgers even better.
Notable Fuddruckers locations include a Canadian store in Saskatoon, Saskatchewan. It was at this location where an entertainment chain spun off called "Ruckers." This was a business that had arcade games, prizes, rewards, and birthday parties. Ruckers had a brief popularity, but has since been downsized to the original Saskatoon location. Other famous Fuddruckers locations include the Las Vegas casino, and its ground breaking Saudi Arabia location that opened in 1994.
Print Coupons for Fuddruckers, Find Promotional Discounts
Printable coupons that you can use at Fuddruckers restaurants are available online. You should first go to FuddsPrime.com to get your coupon good toward a Fudds Prime burger. You can also get coupons as well as special offers, birthday burgers, and more by signing up for Fudds Club. You can also choose to receive coupons via text messaging by entering your mobile phone number. Another good way to get Fuddruckers coupons is by checking your local Sunday newspaper in the coupons section