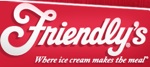 History of Friendly's
In 1935, two young brothers borrowed money from their parents to open a warm and caring ice cream shoppe in Springfield, Massachusetts.
And for more than 70 years the goal of the Friendly shoppes has been to end every meal with incredible homemade ice cream in all sizes and flavors. The Blake brothers sold the Friendly shoppes in 1979 to candy giant Hershey Foods, who began co-branding its products, such as Reese's Pieces and Oreos with the Friendly name. Hershey added 100 new stores in the mid-80s with 34,000 employees.
In 1988 Donald N. Smith of the Tennessee Restaurant Company bought Friendly from Hershey. A year later Smith changed the name by adding the "s" and introducing Friendly's. And for the first time, Smith began to sell franchises of Friendly's. In 2007, private investment firm Sun Capital acquired Friendly's, which is currently 50 percent company owned and fifty percent franchised in 16 states.
When the Sun Capital purchase was finalized, a pending lawsuit by Friendly's 90+ year old cofounder, Prestley Blake, (who had watched the company's stock sink and who had begun buying up shares), came to an end. He owned about 10+ percent of the stock. Blake filed a lawsuit in 2003 against Smith, who was the company's chairman, blaming him for misused company's funds.
The bitter lawsuit, which pitted the brother cofounders against each other, ended as the deal required the resignation of Friendly's entire board of directors, except George Condos, who took over as chief executive, in 2007. The New England company celebrated its 70th anniversary in July 2005 and will commemorate its 75 anniversary this July.
Eighteen year old Curtis Blake and his 20 year old brother Prestley Blake, opened a neighborhood ice cream shop selling only double-dip cones for 5 cents. Today Friendly's manufactures ice cream which is distributed through more than 500 restaurants and more than 4,000 supermarkets in Mid-Atlantic and Northeastern USA.
Additional Menu Items
Friendly's sundae ice cream flavors extend from vanilla, chocolate, strawberry to butter crunch, chocolate chip cookie dough, Vienna mocha chunk or vanilla fat-free frozen yogurt. Toppings range from crushed heath bar to M&M's and Hot Fudge.
Big Beef Burgers, signature SuperMelt Sandwiches, a Cape Cod SuperMelt sandwich, a Tuna SuperMelt sandwich, the all American Cheeseburger and classic Turkey Club are also included in the restaurant menus.
Get Promotional Discounts, Deals, and Coupon Codes for Friendlys
In the Sunday supplement of most newspapers you can find coupons for Friendly's and if you miss the coupons, you can go to the newspaper's website to print them. Friendly's also offers coupons, such as buy one get one free (BOGO) on Facebook. Friendly's recently offered a BOGO coupon for Lava Cake Sundaes when you friend them on Facebook, (the offer expired January 10, 2010).
When you join the Best Friends of Friendly's Club, you receive a free 3-scoop sundae coupon for signing up and special birthday offers for you and your family sent by email and by regular mail. Coupons are also available for Friendly's retail products.