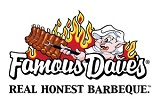 What is Famous Daves BBQ?
Famous Dave's Legendary Pit Bar-B-Que ® has made tasty Southern style barbeque items for almost 20 years. Patrons flock to Famous Dave's to sample award-winning ribs, sides and desserts in a friendly, cozy atmosphere. As a result, Famous Dave's has become one of the most popular barbeque restaurant chains in the country.
One way Famous Dave's rewards their customers for their loyalty is by issuing coupons that can save patrons several dollars off tasty menu items. Here is a guide about Famous Dave's menu items and coupon promotions that can help consumers find tasty deals on great Southern style barbeque. The guide includes a brief company history as well as a selection of the menu items that Famous Dave's serves to customers in its U.S. restaurants. It also includes information about Famous Dave's most famous items as well as information on how consumers can find coupons that can help them save up to 50% off their final purchase price.
Famous Dave's has seen tremendous growth since its first restaurant in 1995.

Dave Anderson opened the first Famous Dave's restaurant in 1995 just outside of Hayward, Wisconsin. At this first location, Anderson combined an award-winning Southern style barbeque menu with a great family-style atmosphere that was immediate hit with patrons. This combination worked so well that Dave Anderson was quickly able to open other locations in the Midwest. By the end of the 1990's, Famous Dave's opened restaurants across Missouri, Minnesota, Illinois and other Midwestern states. These restaurants featured a wider variety of desserts, side items and extra-value platters that became a huge hit with value-conscious consumers.
Today, Famous Dave's has locations in nearly every state in the Union. It has also expanded its offerings to consumers by offering gift cards and a full line of BBQ sauces, dry rubs and spices to grilling enthusiasts who love sweet, tangy flavors. Nonetheless, Famous Dave's will always be a favorite of consumers who love Southern style barbeque served in a cozy atmosphere.
Here is a partial list of menu items that Famous Dave's serves to hungry patrons around the country:
Meat items:

Southern style BBQ ribs
Georgia-style chopped pork
Barbeque chicken
Hand-trimmed Texas-style beef brisket
BBQ and Buffalo-style chicken wings
Lemon-peppered flavored country-roasted chicken
Other items:
Char-grilled hamburgers
Sweet and Sassy grilled salmon
Sweetwater catfish tenders
And a wide assortment of appetizers, salads, soups and desserts that are too numerous to mention
Furthermore, Famous Dave's offers a lunchtime menu that offers lunch-sized sandwiches, soups and salads.
Of these menu items, Famous Dave's is most famous for:
Their Southern style BBQ ribs
Their hand-trimmed Texas-style beef brisket
Their onion string appetizer
And their potato salad
Discounts, Coupons, and Promotional Savings for Famous Dave's BBQ
Famous Dave's offers coupons through their exclusive online PIG (Pretty Important Guest) E-Club and through local promotions.
Famous Dave's ocassionally offers coupons to consumers online at their E-club located online. Consumers who have a valid E-mail address can sign up to take advantage of occasional 2 for 1- offers on lunch menu items and coupons that are good for up to $2.00 any order over $10.00. Furthermore, Famous Dave's also offers E-club members a special birthday meal that is worth the time to sign up for the E-club.
Famous Dave's also occasionally offers coupons locally in newspapers and in Valpak's bulk mail coupon circulars. Recent examples have included $5.00 off any order of $20.00 or more. Other examples have included a coupon good for 1/2 off any gift certificate or gift card that's worth at least $50.00 and a coupon that is good for $3.00 off any lunch order over $10.00.