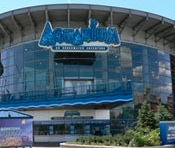 Downtown Aquarium's Membership Benefits
Downtown Aquarium in Denver, Colorado is an excellent place for families to connect while enjoying a great meal and amazing aquatic life. Landry's Restaurants Inc bought the Downtown Aquarium in early 2003. Before this, it was known as Denver's Ocean Journey Aquarium. In mid 2005, Landry's re-opened the re-designed and renovated complex calling it Downtown Aquarium. In the entertaining and dine complex, customers can enjoy the public aquarium that contains more than one million gallons of underwater exhibits. These exhibits play host over five hundred species of animals and ecosystems found all over the world.
While dining at Downtown Aquarium, you will be surrounded by one hundred and fifty thousand gallons of water with stunning views of reticulated rays, sawfish and guitarfish among many other creatures that swim three feet from your table. As a customer, you can enjoy a number of dishes such as fresh seafood, steak, chicken, a variety of salads and desert.
If you're merely looking for a place to catch a drink, visit the Dive Lounge. This lounge is located on the first floor of the complex and offers a great getaway before or after dinner. They feature Happy Hours every Monday through Friday from 3:30 to 6:30.
Downtown Aquarium's Aquarium Adventure Exhibit offers children a great way to learn about the various ecosystems of the world. They have a North American exhibit that features the habitats of animals that we find every day on our very own continent. The Under The Sea portion gives insight on ocean caves and crevices, showing all that the ocean has to offer. The Rainforest exhibit represents the rainforests of the world and shows small fish species that inhabit this habitat.
If you would like to have a birthday party at Downtown Aquarium, simply reserve your date. With this package you will have the dining area reserved for one hour. The children will also have a great variety of meals to choose from including burgers, cheeseburgers, chicken fingers, pizza or popcorn shrimp. Your child will receive a birthday cake, and each kid will get a party favor.
Ways to Get Discount Codes and Promotional Coupons for Denver Aquarium
Downtown Aquarium also offers an array of educational classes. Your child could become a marine biologist for a day or experience all the aquarium has to offer in an overnight stay. Downtown Aquarium also offers "Bring Your School To The Aquarium" packages and teacher workshops.
If you love the aquarium or your child can't get enough, you might want to join their annual membership program. With a Captain's Level Membership, you can enjoy unlimited visits to the aquarium and become a 4D theatre value pass member. With this membership, you will also enjoy four one-time guest passes to bring your friends along for the adventure. With a membership you will receive priority seating in the dining area of the restaurant and ten percent off of every purchase you make to the Treasure Chest Gift Shop, Retail Outlets and all attractions.
IF you spring for the Admiral Level Membership, you will enjoy all of the benefits of the Captain's Level, be you will receive eight guest passes, ten percent off at Landry's Seafood House, Willie G's Saltgrass Steak House, Simms Steakhouse and Chart House in Colorado.
Being able to let go every once in awhile is something that we all want. At Downtown Aquarium, let your worries and stress dissolve as you find tranquility in the marine life and the delicious food they have to offer. Let your children learn about the world around them and enjoy the majesty of aquatic wildlife. Join as a member and start saving money while you do all of this and more.