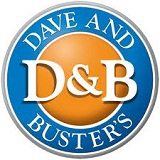 Dave and Buster's History
Dave & Buster's began as two separate businesses in late 70's. As the modern name suggests, the businesses were operated by a guy named Buster and a guy named Dave. Buster owned a restaurant. Dave owned something called "Slick Willy's World of Entertainment," where kids and adults could go to play fun games. The places were close to each other, so it wasn't hard for both owners to observe that customers often left Dave's and went to Buster's, or often left Buster's and went to Dave's. They contacted each other and the rest would become game-food history.
Dave and Buster chose Dallas Texas for the location of their first operation. It was a 40,000 square foot monster of a building that was to house huge games and huge amounts of food all under one roof. This was an adult playground where kids could tag along if they wanted. Thanks to Buster's food, no one would ever go hungry while playing. The doors opened for the first Dave and Buster's in December of 1982. People are now having a great time around the globe.
Dave and Buster Specialties

Dave and Buster specialize in two things: food and games. Most people will tell you that the food is great, but without the games, it's just not the same. When you think "game" think big time game here. It's not monopoly. There are competitions of Dance Dance revolution, the nascar simulator called Carismo, and classic games like Galaga and Ms. Pac-man. There are also games that you play to help you win tickets for more games. This is one of the most unique Ways to win a Dave and Busters coupon. You win it by going there and playing a game you're good at.
The part Buster is responsible for is the food. Dave offers appetizers like philly steak rolls, bar burgers and wings platter, and grilled chicken nachos. The menu offers plenty of variety. You can get seafood, burgers, pasta, steaks, ribs, and more. That's right. There's even more.
The Dave and Buster's drink selection is extensive. You'll find shooters, cocktails, mojitos, Island drinks, a full collection of Hennessey drinks, and at least half a dozen other categories of drink to choose from. Happy hour isn't just a happy hour at Dave and Buster's. They have two happy hours. You will need both to make it through the Jager bombs. After work happy hour and late night happy hour give you two more reasons to stop by and enjoy an exertion to Dave and Buster's.
For adventurous types who never get food without games, Dave and Buster give you a combo meal/game price. The packages start at $15.99.
Seasonal celebrations

Being a place of fun, it's no surprise that Dave offers full party services for every holiday you need to celebrate.
Dave and Busters Coupons, Promotions, and Discount Codes

Dave and Buster offer great savings for customers too. Birthday events and pay and party combos are offered at a discounted price for those who apply for their event. Here's a simple Dave and Busters coupon. Just for signing up for their website, you get $10 to play games. They email you monthly specials. Don't forget that once you've won 1200 chips, you're a gold member for life and get 10% off games forever. On their website, there is a section titled "New and promotions." If there are any Dave and Buster's coupons available, they will be in this section. They also post a lot of sweepstakes offers here for those who are in the mood to take a chance on something. Dave and Buster's goes out of its way to give customers a good deal.