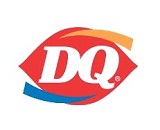 Dairy Queen History
Before August 4, 1938, there was no soft serve ice cream in the world. If you've ever had a cup of Dairy Queen soft serve, you know that the world before August 4, 1938 was a dark age for ice cream. Ice cream was stored at a temperature of -10 F, transported, and served at a temperature of -5 F. The problem was that ice cream didn't taste its best at these temperatures. It was stored and served this way for the convenience of store owners. The two men who are credited with formulating soft serve are J.F. McCullough and his son Alex McCullough. Sherb Noble helped them test out their new treat at his ice cream shop. The first day he offered an all you can eat soft serve deal, 1600 servings of this new treat were served to excited customers. A new kind of ice cream was born and the concept of Dairy Queen would soon become a household name.
Dairy Queen played a notable role in franchising history, too. It was one of the first restaurants to expand operations nationwide. Its growth was phenomenal. In December 1941, there were 10 Dairy Queens. In 1947, there were 100 Dairy Queens. Three years later, the 1950's began with a whopping 1, 446 Dairy Queens nationwide. The concept of the franchise was now a reality and over the years other businesses would spread in this same way.
Dairy Queen's operate as small stores and the atmosphere is one of a small town social picnic. On hot summer days, customers can always enjoy the frozen treats of Dairy Queen, but there are plenty of hot dogs and hamburgers to pass along to hungry children, too.
Key Moments in DQ History
Dairy Queen has too many memorable moments to recount, but here are a few highlights.
The banana split arrived on the menu in 1951. Dairy Queen debuted on TV in 1961, with the commercial "Live a little." The Middle East opened its first Dairy Queen system in 1979. The slogan we are most familiar with, "We treat you right," was introduced in 1980.
Dairy Queen Specialties
Dairy Queen has a menu full of hamburgers, hot dogs, and sides, but it is first and foremost a Dairy Queen. It specializes in frozen treats. A Dairy Queen birthday cake is and always will be the best way to ring in a new age. The amazing soft serve ice cream is still the official food mascot of Dairy Queen, although over the years the treat menu has expanded to include the Blizzards, Dilly bars, Buster Bars, Peanut Butter Parfaits, Sundaes, Waffle Bowls, and waffle cones. This is a short list of all that's available at Dairy Queen. Blizzards aren't just Blizzards. They come in many flavors, with new flavors coming and going each year. Some of the popular specialty flavors available are Reese's, Oreo, Snickers, and Cookie Dough. For the less extreme Blizzard thriller seekers, DQ still has your traditional Blizzard flavors.
Find Dairy Queen Coupons & Discount Codes to Print
If you're hungry and thrifty, it's time to locate Dairy Queen coupons to fund your supply of treats. Dairy Queen's Blizzard fan club is one way to save. By joining, you earn 6 free Blizzard treats a year. That's a lot of Blizzards just for signing up for the fan club. The Sweet deals menu is a permanent list of Dairy Queen coupons, featuring nine DQ items. You can find this delicious coupon on your local Dairy Queen menu. Just drive up to this menu, pick out something great, and order away. The savings come naturally.
Online Dairy Queen coupons are more scarce, but there are other coupons out there. Local newspapers often contain coupons for Dairy Queen. You just have to do a little searching.