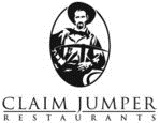 History of Claim Jumper
The first Claim Jumper Restaurant was opened by Craig Nickoloff on September 27, 1977 in Los Alamitos, California. Today there are 46 Claim Jumper Restaurants in Arizona, California, Colorado, Illinois, Nevada, Oregon, Washington and Wisconsin.
Items on the Claim Jumper menu include appetizers, soups, salads, burgers, sandwiches, seafood, pizza, pasta and desserts. Claim Jumper also serves some rotisserie specialties. A Little Jumpers menu is offered for children. A complimentary child's plate with turkey, applesauce and cheese is provided for children who are under 18 months of age. Vegetarian and gluten free items are available.
Claim Jumper Restaurants are known for serving big portions. Many of the entrees will provide a person with enough leftover food for one or two more meals. The appetizer combo platter can easily be shared by several people.
Catering
Some Claim Jumper restaurants provide catering services. Party platters can be delivered for large gatherings. All locations have food available for take out. Take out can be ordered on line. A Chocolate Motherlode Cake can be ordered online from the restaurant and will be shipped priority overnight. Some of the restaurants deliver. All of the restaurants will accept reservations for parties of any number. Some locations will take reservations that are made online.
Happy hour specials are available in the saloon areas of the restaurants from 3:00 p.m. to 7:00 p.m. Monday through Friday. The drink specials are not available in Illinois or Oregon. Prices vary in the Midwest locations. Free popcorn is available in the saloon.
Get Money Saving Coupons and Coupon Codes for Claim Jumper
Claim Jumper Restaurant coupons can be obtained by signing up for the restaurant's E-Club. E-Club members receive special offers and information about in store promotions. Parents can enroll children under 12 in the Little Jumper's Club. Children in the club will receive a free meal on their birthdays. They will also receive information about events for children.
Claim Jumper Restaurants offer some specials and discounts on their website that are available for a limited time. A Winter Special available for a limited time consists of three different soups and garlic cheese toast for $7.95. Customers who bought at least $50 worth of gift cards before December 31, 2009 received a $10 bonus card for each $50 purchase.
Facebook Specials
The Claim Jumper Restaurants have offered some specials available for a limited time on their Facebook page. These specials have included a 20 percent discount on take out orders during the 2010 Winter Olympics, 50 percent off a bottle of wine with the purchase of a meal and a complimentary half slice of Mint Chocolate Mud Pie. There is a link to the Claim Jumper Facebook page from the Claim Jumper website. These offers are available to anyone. Coupons for offers can be printed out or shown electronically at the restaurant on a cell phone or a laptop. All Claim Jumper restaurants have free wireless service.
Claim Jumper Restaurants are a good choice for those who have big appetites. The large portions will also be appreciated by those who enjoy leftovers.