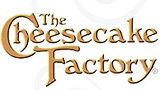 About the Cheescake Factory
The Cheesecake Factory has been in business for over 30 years and has enjoyed much success. Opening in 1978, The Cheesecake Factory has its meager beginnings in Beverly Hills, California. Now, with almost 150 restaurants, the Cheesecake Factory has become the favorite restaurant of many.
The Cheesecake Factory is known for its unique decor and its amazing upscale food selections. When you enter a Cheesecake Factory restaurant, you will see limestone floors, beautiful fabrics, and lovely dark wood. The decor may be lavish, but the menu is spectacular. There are over 200 selections to choose from including appetizers, seafood, steaks, salads and sandwiches. Each menu item is created fresh daily. Specialty items include their Miso Salmon and Luau Salad.
The menu portions are generous and often require a take home box. Most guests choose to share an entree or simply order an appetizer as their meal so that they can save room for dessert. True to its name, the Cheesecake Factory offers over 50 amazing versions of the traditional cheesecake, including Godiva Chocolate Cheesecake and White Chocolate Raspberry. There are plenty of specialty drinks and coffees that go perfectly with just about any cheesecake variety that you can imagine. Coffees and teas have their own special place on the menu and in the heart of the Cheesecake Factory's loyal customers.
Promotional Discounts, Coupon Codes, and Deals on the Cheesecake Factory
Most Cheesecake Factory restaurants are open seven days a week, including late dining and a fully stocked bar offering just about any cocktail that you can imagine. The bar is a spectacular place to go for a late night cocktail and a slice of cheesecake. With a date, alone or with a friend, the Cheesecake Factory bar will meet all your needs.
You may be happy to learn that the Cheesecake Factory is now offering a Catering Menu perfect for home or office parties and special events. If you're not in the mood to go out, you can also order Cheesecake Factory food to go and pick up your order using their curbside service.
Just about anyone who has ever dined at the Cheesecake Factory would appreciate some Cheesecake Factory coupons. Cheesecake Factory coupons are relatively easy to find if you know where to look. First, check out the company's own website, Thecheesecakefactory.com. There you will find dining specials and the occasional coupon for an appetizer or meal.
Another way that you can find Cheesecake Factory coupons is to do a simple internet search. You will find hundreds of websites where you can print out coupons on your own home printer to use at your local Cheesecake Factory. Coupons will vary from site to site, so be sure to check out a few before choosing one to use. Also, you will need to check the expiration of coupons found on these sites to make sure that the coupons are valid for use.
One other way to find Cheesecake Factory coupons is to check your local Sunday newspaper. Coupons are often found in the circular and are offered at least twice per month. Again, be sure to check expiration dates before attempting to use a coupon.
The Cheesecake Factory is a wonderful place to take your date or your whole family. By using coupons, you can save money and enjoy a wonderful, gourmet meal and dessert.