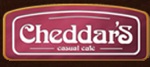 Cheddar's Casual Cafe History
Cheddar's Casual Café is a restaurant chain based in the state of Texas. It began in 1979 near the Six Fags amusement park, giving it a lot of exposure and business. The chain was founded by Aubrey Good and Douglas Rogers and continues as a privately held company to this day. There are about seventy Cheddar's restaurants in operation, mostly in the south and Midwest sections of the United States. The Cheddar's vision is a neighborhood restaurant that offers the finest in quality handmade food made fresh and sold at an affordable price. Cheddar's Casual Café is determined to make every customer feel wanted, valued, and respected, a policy that makes customers keep coming back for more.
Cheddar's signature business model includes no advertising. It's business depends totally on word of mouth and signage.
The Cheddar's Casual Café menu varies somewhat by location, but includes appetizers, soups and salads, sandwiches, classics, steaks and combos, burgers, sides, desserts, and kids meals. Cheddar's also has a variety of signature drinks that include Vodka Iced Tea.
The appetizers from Cheddars include items like Chips & Homemade Queso, SantaFe Spinach Dip, Homemade Onion Rings, Texas Cheese Fries, Mozzarella Sticks, Ultimate Nachos, and more. The soups and salad offered include Chicken Caesar Salad, Asian Chicken and Shrimp, Vegetable Plates, Hawaiian Chicken Salad, two Ultimate Lunch Combos, Homemade Chicken Tortilla Soup, Baked Potato Soup, and more.
Those who like sandwiches will enjoy Cheaddar's offering of World Class Chicken, Buffalo Chicken Wraps, Philly Cheese Steaks, Double Deckers, and Cheddar's signature MonteCristo. The Monte Cristo is a sandwich that features smoked turkey, ham, two kinds of cheese, cooked together with raspberry preserves.
Lemon Pepper Chicken, Dijon Chicken and Mushrooms, Homemade Chicken Pot Pie, Chicken Fried Steak, Chicken Tenders, Hickory Smoked Baby Back Ribs, Grilled salmon, Grilled Catfish, Key West Chicken and Shrimp, and other fine selections grace the Classic section of Cheddar's menu.
More Menu Items
Cheddar's steaks are aged between twenty four and twenty eight days, giving them the exquisite flavor and tenderness customers have grown to expect. The Cheddar's menu features an eight and an eleven ounce Center Cut Top Sirloin Steak, Ribeye, Steak and Shrimp plates, Steak and Chicken combos, Chicken and Shimp platters, and more.
What would a casual café be if it didn't have burgers? Cheddar's doesn't disappoint in this area at all. Menu selections including their Original Burger, Cheeseburger, Bacon Cheeseburger, Mushroom burgers, Peppercorn Ranch Burger, and Smokehouse Burger give customers an awesome choice of the best tasting burgers around.
Cheddar's dessert menu is unparalleled, featuring Cheddar's Legendary Monster Cookie, Hot Fudge Cake Sundaes, and Apple Pie a la Mode.
Get Promotional Discounts, Deals, and Coupon Codes for Cheddars
Since Cheddar's doesn't advertise, about the only way you can get Cheddar's coupons is by signing up for the Cheddar's email list. Those who are enrolled receive periodic news, promotions, and special offers.