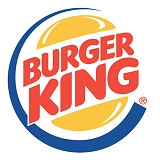 Background Info on Burger King
Burger King, which is often referred to as BK, is a fast food hamburger chain. The company has over 12,000 fast food locations located in 73 different countries. 66% of the restaurants are located in the United States and over 90% of the locations are franchise owned. The company, which is headquartered in Miami, FL, employs over 37,000 people who serve over 11 million customers each day.
Burger King is well known for their unique hamburger which is called the Whopper. BK separates themselves from their competition by advertising the fact that they always flame broil there hamburgers as opposed to frying them. While the majority of the company's history has been focused on selling fast food hamburgers, the company in recent years has added many additional lines of food including fish sandwiches, salads, breakfast sandwiches, and chicken sandwiches. BK also has a vast line of desserts including milkshakes, ice cream sundaes, and slices of pie.
To gain popularity among children, BK offers Kids Meals which come with a toy and a fake cardboard paper crown.
Get Money Saving Coupons and Coupon Codes for Burger King
To save money when eating at Burger King, many customers can find printable Burger King coupons online. One excellent location to find printable Burger King coupons is through online coupon websites. Some of the coupons which can be found online include getting a Double Stack Cheeseburger for 99 cents, getting a free Kids Meal, getting a free toy with a Kids Meal, and a buy one get one free deal for Double Whoppers.
On these sites consumers can find a wide variety of printable coupons. Each printable coupon also comes with a success rate score so a consumer will know which coupon they can expect to be accepted by their local restaurant. One of the most popular coupons on the Retail Me Not website is the free Whopper and fries coupon. Other coupons on this site which come with good success ratings are for 35% off the bill, a free piece of pie, free French fries, and a free croissant breakfast sandwich.
Offline Coupons
While many coupons can be found online, consumers should also be on the look for coupons that are sent out or provided in person by Burger King. The popular fast food burger chain frequently sends out coupon books with various different coupons that can be used at local restaurants. These coupon books are frequently included in Sunday newspapers, but are also sent by direct mail. Customers are able to sign up for the direct mail through Burger King directly.
Burger King also frequently changes their specials. While they carry a consistent dollar value menu where a customer can purchase a sandwich, fries, or a drink for under $1, many BK franchises also offer rotating specials. These specials are available without a coupon and often include 2 for 1 Whoppers, free fries, or discounted breakfast sandwiches. The specials available tend to vary significantly by region and location.