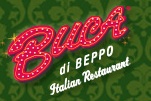 History of Buca Di Beppo
The first Buca di Beppo restaurant was opened in 1993 in Minneapolis. There were 20 Buca di Beppo restaurants in the United States by 1998. Today there are Buca di Beppo restaurants in 23 states and Washington D.C.
Buca di Beppo is known for serving Italian food family style. This means the portions are large and are served in one dish that is passed around the table for everyone to help themselves. The food is available in small portions and large portions. The small portion size will serve up to three people and the large portion size will serve up to six people. Some items are available in single portions.
Menu items include pasta, pizza, appetizers, salads and desserts. A special menu is offered for children who are 10 and under.
Buca di Beppo restaurants have some unusual features. The walls are covered with vintage photographs. A table in the kitchen is available for customers who are interested in seeing how the meals are prepared. Tours of the kitchen are available by request. Guests enter the restaurant area through the kitchen in some locations. Most of the locations have a Pope's Table that will accommodate from 14 to 18 people. The Pope's Table has a bust of the Pope in the middle of the table.
All the restaurants are open for dinner and most locations are also open for lunch. Single serving food portions are offered on the lunch menu. The complete menu is available to go. To go orders can be placed online at some locations. Some of the restaurants offer curbside service. Customers can place an order, drive to the restaurant and have the order brought out to their car. Reservations can be made online for some of the restaurants for future date. Customers should call to make reservations for the same day. Catering is provided at various resttaurants. There are some locations that have facilities for banquets for lunch or dinner.
How to Find Discounts, Promotional Deals, and Coupon Codes for Bucca di Beppo
Buca di Beppo coupons can be obtained from the restaurant's Facebook page. One coupon offered 50 percent off any pasta or entrée with the purchase of one at regular price. Other special offers from the restaurant have included a free chocolate covered strawberry on Valentine's Day and free spaghetti on World Pasta Day with the purchase of pasta or an entrée. A free lunch sized portion of lasagna was offered on National Lasagna Day with the purchase of a small or large entrée or pasta. One location has given away a free pizza with a drink during happy hour. Customers who purchased $100 gift cards during the holiday season received $25 Reward Cards.
Customers who join the Buca di Beppo eClub will receive a free birthday dessert and a special welcome offer. They will also receive offers that can total as much as $150 in discounts in a year.
People who like Italian food served family style will enjoy dining at Buca di Beppo.