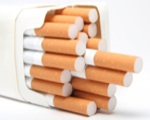 Information on Cigarettes
Never mind that it may be bad for your health – smoking cigarettes can bankrupt you! As of April 1, 2009, federal taxes on cigarettes were $1.01 per pack. And then there are all the state taxes to contend with.
The Basic cigarette brand was developed by Philip Morris to offset the impact these excise taxes have on smokers' wallets. Available in both hard and soft packs, Basic cigarettes are the fourth most popular cigarette brand in the United States. They come in 13 different varieties including full flavored, lights, ultra-lights, menthol and unfiltered. They're available as king-sized or 100's.
Ways to Find Special Deals, Coupon Codes, and Discounts for Basic Cigarettes
Discount Coupons From Philip Morris
By U.S. law, coupons for tobacco products must be mailed. The Philip Morris Company offers discount coupons for Basic Cigarettes, but in order to become eligible for them you must first register on theirSmoker Sign Up webpage.
You must be 21 years old or older, you will be asked to provide an electronic signature, which is legally binding, and you may be asked to verify your age by phone.
You then become eligible to receive discount coupons and other special offers through the mail from Philip Morris.
Alternatively, you can call the company directly and ask to be placed on their mailing list: 800-343-0975
Buying Basic Cigarettes Online
Many online tobacco retailers are, in fact, businesses associated with, or owned by, Native Americans. They argue that since their businesses are located on Native American lands, they are neither required to charge state taxes nor to report the sales of cigarettes to state customers.
A carton of Basic cigarettes purchased through one of these online outlets will cost between $38 and $41 (a savings of as much as $15.) Some sellers occasionally use premium codes, entered at the point of purchase, which can save you an additional dollar or so.
Duty Free Cigarettes
Basic cigarettes are not among the brands available for purchase from overseas warehouses.
Ordering duty-free cigarettes from overseas vendors is another way smokers attempt to save money on cigarette purchases. Prices typically do not include taxes since these vary so widely among destination countries. Beware that purchasing untaxed tobacco products may result in a retroactive tax assessment when your purchase is reported to state franchise authorities.
Printable Cigarette Coupons
There are few, if any, printable cigarette coupons available for Basic cigarettes – or, indeed, any other brand of cigarette. Search engine hits can be misleading.
However, printable cigarette coupons are likely to become more available in the future as states act to remove the tax advantage of buying cigarettes online by restricting their shipment through the U.S. mail.